Autonomous Fairway Mower for Golf Courses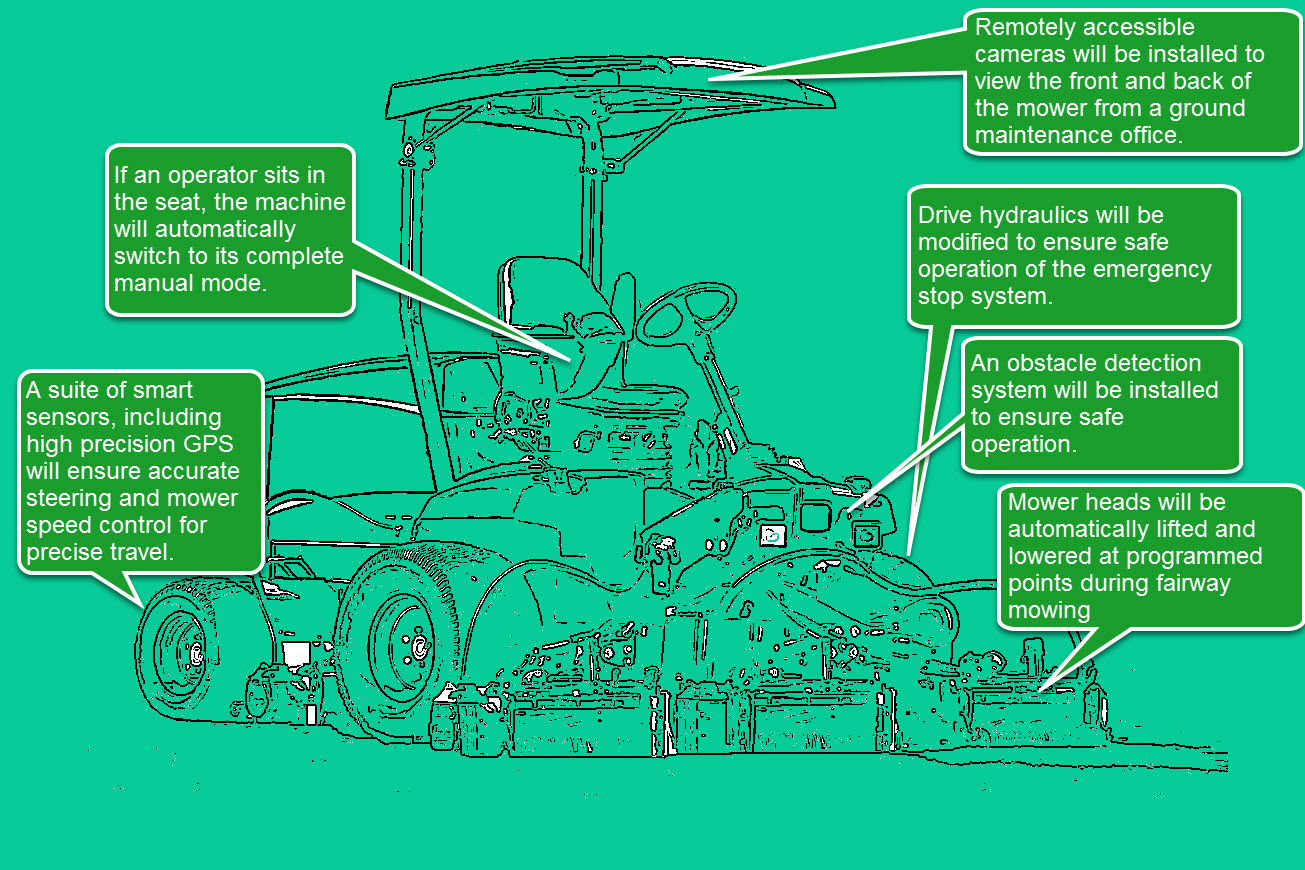 ♦ Through 10 years of pioneering research, Thornfield Robotics has developed sophisticated vehicle guidance algorithms that will ensure highly reliable and precise autonomous guidance of your fairway mowers.
♦ Our technology can transform your manually operated fairway mowers to be easily programmable, reliable, safe and efficient driverless machines.
♦ Please see below for further information about our approach and the advantages of converting your existing fairway mowers to fully driverless machines.
♦ We are keen to work with you to realise your agricultural or other field vehicle automation requirements.
♦ There are three levels of automation available:

૘ Entry level – The entry level mower is driven to the fairway and the autonomous mowing function is launched. During mowing, the mower will automatically avoid obstacles and collisions. At the end of mowing, the mower will stop where it started so that it can be collected;
૙ Intermediate level – In addition to the entry level functions, the intermediate level mower will autonomously transfer from fairway to fairway
૚ Advanced Level – In addition to the entry level and intermediate level functions, the advanced level product will autonomously leave and return to the base after the completion of all programmed mowing activities.

♦ The Thornfield Robotics systems are entirely retrofittable requiring minimal capital expenditure.
♦ Whilst being converted to autonomous operation, the mower will still remain usable for normal duties through manual operation mode.
♦ Once converted, the autonomous mowers can be programmed very easily using our programming interface. Please visit 'Task Planner' for further information.
♦ The autonomous mowers eliminate human error, effects of absenteeism, worker injury and provides you with extended hours of uninterrupted operation that can be programmed to start automatically and operate autonomously at any time of the day.